October 2nd, 2014
http://www.luminarium.org/encyclopedia/richardrich.jpg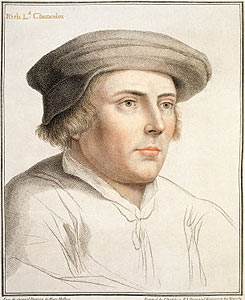 Since the mid-sixteenth century Rich has had a highly negative reputation for immorality, financial dishonesty, double dealing, perjury and treachery that is seldom matched in all of English history. The historian Hugh Trevor-Roper dismissed Rich as a man "of whom nobody has ever spoken a good word"
Only one person was more dishonest that was his master Henry the 8th.
I have looked into the vast majority of English master properties,
Best to read the Thomas More opinion of Rich,
RICHARD RICH, first Baron Rich (1496?-1567), lord chancellor, second son of Richard Rich and Joan Dingley, his wife, was probably born in 1496, since early in 1551 he is officially described as fifty-four years of age and more. The family was of Hampshire origin, and the chancellor's great-grandfather, Richard Rich (d. 1469), a prominent member of the Mercers' Company, served as sheriff of the city of London in 1441. He left two sons, John (d. 1458), from whom are descended the baronets of the Rich family, and Thomas, grandfather of the lord chancellor. The visitation of Essex in 1512 represents the chancellor as second son of John Rich, who died on 19 July 1468, which is impossible. Robert, a brother of the chancellor, died in 1557.
Rich was born in the parish of St. Laurence Jewry, in the church of which several of his family were buried. Cooper states that he was at one time a member of Cambridge University, and in 1539 be was an unsuccessful candidate for the chancellorship of that university against the Duke of Norfolk. He was bred to the law, entered the Middle Temple, and formed an acquaintance with Sir Thomas More, a native of the same parish and member of the same inn. 'You know,' said More to Rich at his trial, 'that I have been acquainted with your manner of life and conversation a long space, even from your youth to this time; for we dwelt long together in one parish, where, as yourself can well tell (I am sorry you compel me to speak it), you were always esteemed very light of your tongue, A GREAT DICER and GAMESTER. and not of any commendable fame either there or at your house in the Temple, where hath been your bringing up.
Whilst looking for the list of histories chief villains and cheats, I am not surprised that they are from the very highest in the land, being of royal blood, no deterrent it may be that in the beginning the Sport of Kings was created especially for Kings and Queens, and there ilk I am afraid to say that cleverness in gambling, is not confined to the wealthy or certainly not the well educated, although there cleverness will soon alleviate many who started the better off only to find there position on the UK RICH list transferred from one to the other.
Next Henry 8th Apprentice. William Palmer, Prince of Poisoners,
Don